YouTube takes the top spot for the third year running
Video-sharing platform YouTube heads YouGov's annual BrandIndex Buzz Rankings in Thailand, taking the top spot for the third year running.
YouGov BrandIndex measures the public's perception of brands on a daily basis across a range of measures. The annual rankings are compiled using Buzz scores from across all 52 weeks of last year. Buzz scores measure whether people have heard anything good or bad about a brand during the previous two weeks.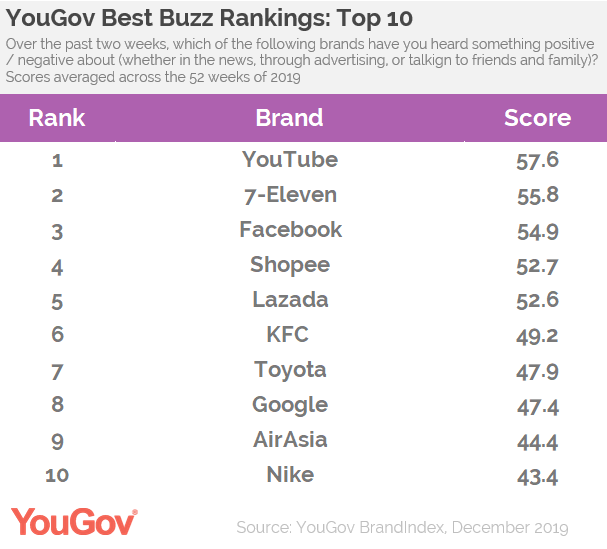 Digital brands mostly rule the top ten. Social media giant Facebook comes in third (54.9), Southeast Asian e-commerce platform Shopee in fourth (52.7) and its competitor Lazada in fifth (52.6), tech conglomerate Google in eighth (47.4).
The rest of the top ten is completed by brands from various industries. Convenience store franchise 7-Eleven places second (55.8), fast-food chain KFC in sixth (49.2), Japanese automotive in seventh (47.9), low-cost airlines AirAsia in ninth (44.4) and sports retailer Nike in tenth (43.4).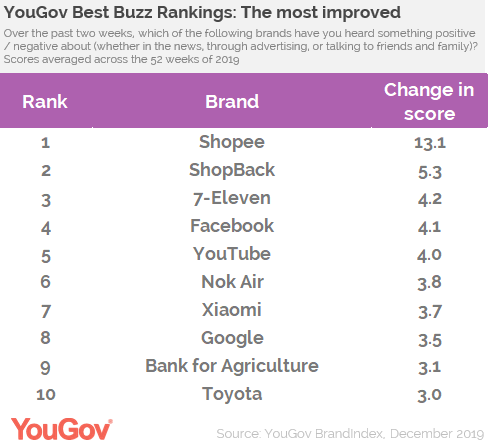 YouGov also reveals which brands have the most improved Buzz scores. Shopee again comes up on top, with a rise of +13.1 points. It is followed by rewards programme ShopBack (up +5.3 points) and 7-Eleven (up +4.2 points).
Ervin Ha, Head of Data Products commented: "As Thailand's digital economy continues to grow, it is no surprise that a significant number of the most positively talked about brands are digital. Buzz is a great way to measure brand health, and it is interesting to see how a global brand like YouTube continues to win over Thai consumers."