Facebook is the brand that Thais would be proudest to work for, new rankings from YouGov BrandIndex reveal.
The analysis looks at which brands people would be proud or embarrassed to work for. Facebook tops the list with a score of 54.2, followed by tech giant Google in second place (51.0), and video streaming platform YouTube in third (49.7).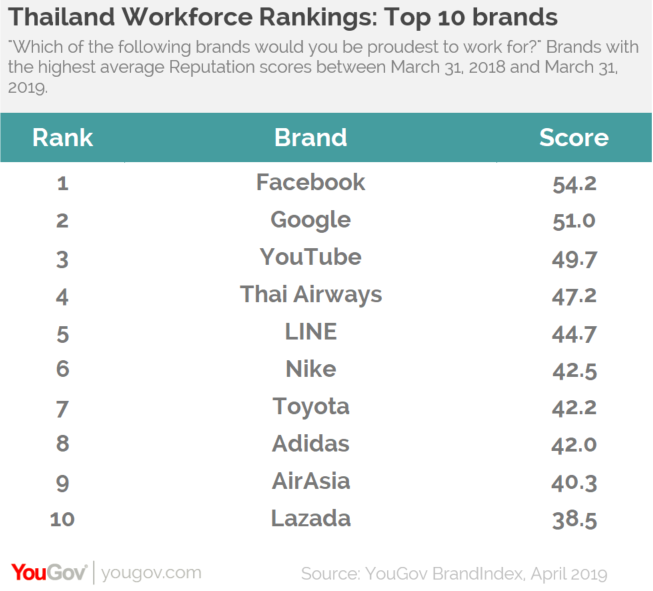 Two other digital brands make the top ten, with instant messaging app LINE in fifth (44.7) and e-commerce platform Lazada in tenth (38.5). Airlines also do well, with national carrier Thai Airways in fourth (47.2) and low-cost airlines AirAsia in ninth (40.3).
Sports brands Nike (42.5) and Adidas (42.0) come in sixth and eighth respectively while Japanese automobile manufacturer Toyota comes in seventh (42.2).
The rankings also reveal the brands have seen the biggest increase in their scores over the past 12 months. Chinese electronics manufacturer Huawei heads the list with a score increase of +9.2, followed by convenience store 7-Eleven in second (up +5.8 points), and fast-food chain KFC in third (up +5.4 points).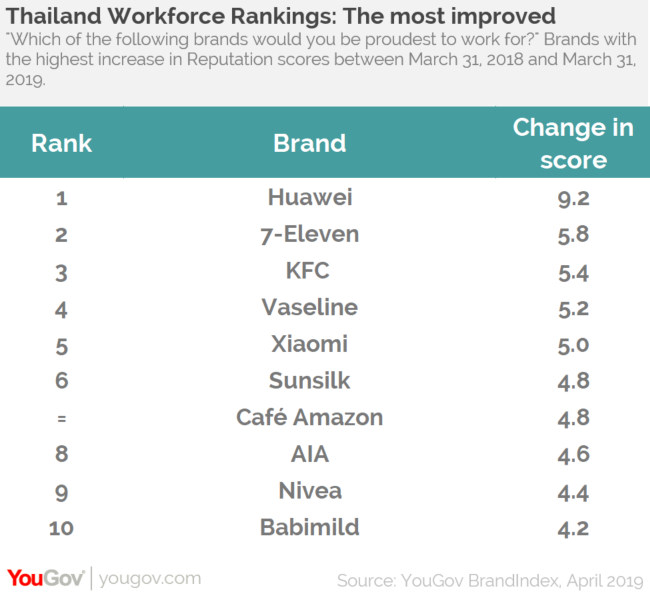 Ervin Ha, Head of Data Products at YouGov APAC said: "Digital brands are the companies Thais would be proudest to work for, and Facebook in particular comes up top for the second year running. Holding the reputation as top employer is a good indication of positive brand health."