Support varies depending on gender, age, income, and the education level
With the recent backing of a bill legalising / recognising same-sex civil partnerships, new YouGov research finds the majority of Thais back the measure.
The data shows that three in five (63%) support legalisation and recognition, while one in ten (11%) are opposed. The remaining 27% prefer not to say.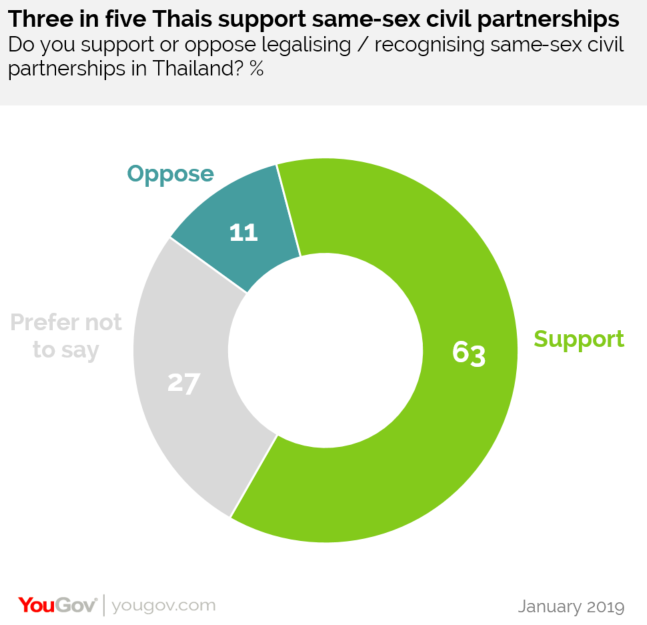 A same-sex civil partnership is defined as a legally recognised arrangement similar to marriage, created primarily as a means to provide recognition in law for same-sex couples. Civil unions grant most or all of the rights of marriage except the title itself.
Women are more likely than men to support same-sex civil partnerships (68% vs 57%). Younger Thais (those aged 18 to 34) are more likely to support same-sex civil partnerships than Thais aged 55 and over (69% vs 53%).

Those with a higher income are more likely than those on lower wages to back the measure. While two thirds (68%) of those earning more than THB 45,000 a month support legalising same sex civil partnerships, this falls to just over half (55%) of those earning less than THB 15,000. Similarly, two in three (66%) university degree holders support changing the law compared to 57% of those without a degree.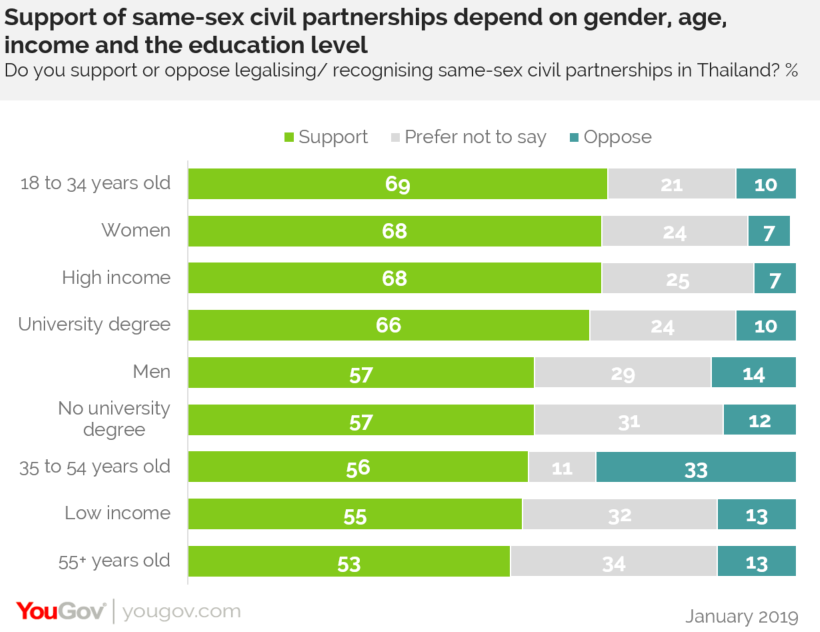 Under the proposals, those in same-sex civil partnerships are afforded certain rights. Of these, Thais believe the right to be accorded equal property, inheritance and succession is the most important (77%), followed by the right to adopt children (73%), and the right to give consent on medical decisions on behalf of their partners (72%).

Kesayamol Anutarapinyovong, Head of YouGov Thailand commented: "When we heard that Thailand might become the first country in Asia to legalise same-sex civil partnerships, we wanted to know what Thais thought of the issue. While the results show that people are mostly in favour, levels of support vary according to gender, income, and age. Young, better-off females are most likely to favour recognising and legalising same sex civil partnerships, while males who are older, and on lower incomes are the group most likely to be opposed."
***Results based on 1,025 Thais surveyed on YouGov Omnibus