Video sharing platform YouTube is the brand Thais have heard most positive things about in last year, YouGov's annual BrandIndex Buzz rankings show.
YouGov BrandIndex measures the public's perception of brands on a daily basis across a range of measures. The annual rankings are compiled using Buzz scores from across all 52 weeks of last year. Buzz scores measure whether people have heard anything good or bad about a brand during the previous two weeks.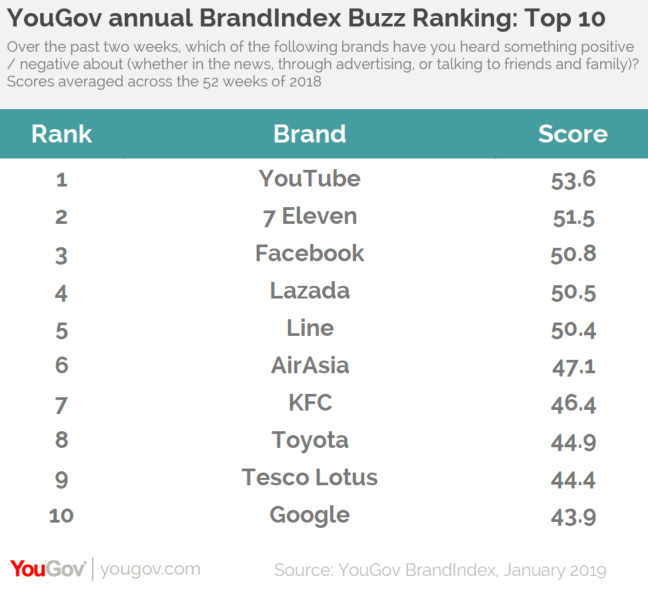 Other digital brands that top the list are Facebook in third place (50.8), instant messaging app Line in fifith (50.4) and internet conglomerate Google in tenth (43.9).
Shopping brands also feature prominently in the list, with convenience store 7Eleven in second (51.5), Lazada comes in fourth (50.5), and hypermarket chain Tesco Lotus in ninth (44.4).
The list completed by brands of various industries. Low-cost airlines AirAsia in sixth (47.1), fastfood chain KFC in seventh (46.4) and Japanese automotive brand Toyota in eighth (44.9).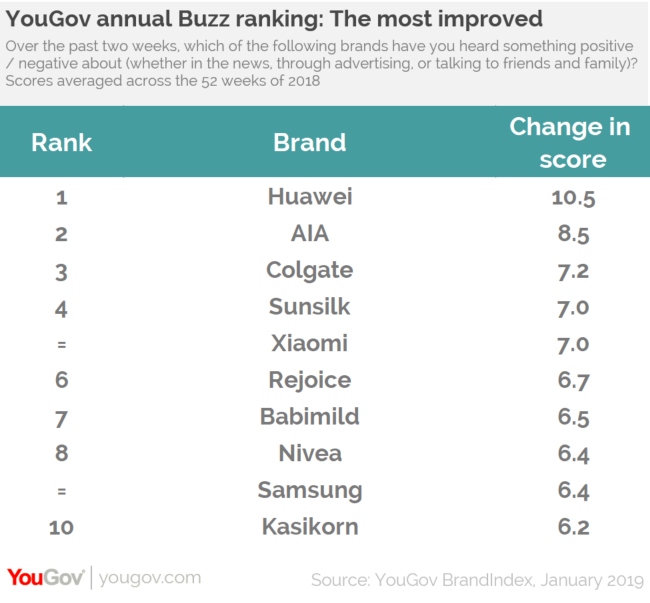 YouGov also reveals which brands have the most improved Buzz score. Chinese electronics giant Huawei comes up top (a rise of 10.5), ahead of pan-Asian insurance group AIA (up 8.5 points). Ths third most improved brand was toothpaste brand Colgate (up 7.1 points).
Ervin Ha, Head of Data Products commented: "Digital brands have really got Thais buzzing, with YouTube being the brand that most people have heard positive things about in the past year. But it is not just the video sharing platform that has performed well on this front, with Facebook, Google and Lazada also making the top ten."