Older Thais get less shut-eye, and richer Thais have poorer quality of sleep
Sleep plays a big role in our everyday lives, but a third of Thai adults are not getting enough shut-eye, new research from YouGov Omnibus finds.
The data shows that a third (35%) get less than seven hours sleep a night. According to Healthline the average adult should get between seven and eight hours sleep a night but YouGov's study finds that only around half (51%) of Thai adults do so, while one in seven (14%) get nine hours or more.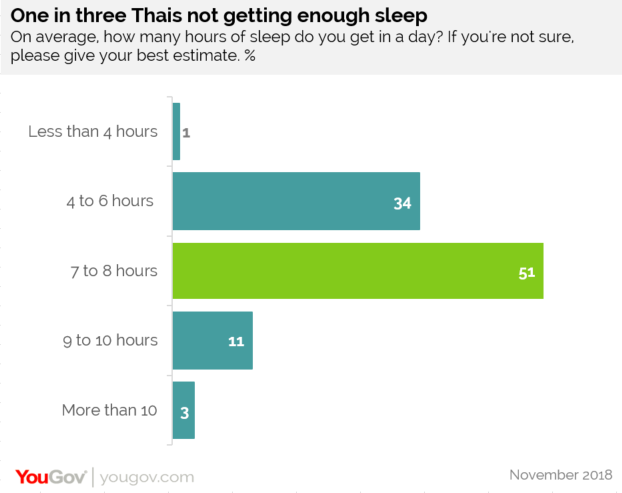 YouGov's research finds that the older Thais are, the less sleep they get. While one in four (23%) 18-24 year-old Thais get between four and six hours sleep a night, this figure jumps to two in five (41%) among those aged 45 and above.

Four in ten (43%) Thais take less than 30 minutes to fall asleep, and two in ten (18%) take more than an 60 minutes. Between men and women, it appears women take longer to fall asleep, with 20% of women taking more than an hour to fall asleep, versus 16% of men.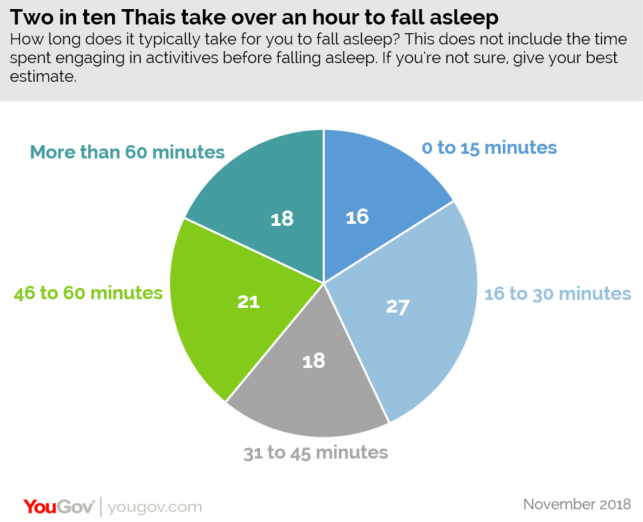 Almost half (49%) of Thai adults say they get "good" quality sleep, with three in ten (29%) state they have "average" slumber while two in ten (22%) describe it as poor. It is noteable that those with a lower household income (less than THB 8,000 a month) are almost three times as likely as those with a higher household income (THB 101,000 to 130,000 a month) to say they get "good" quality sleep (62% vs 21%).
YouGov's study also finds that the majority of Thais sleep with a 'comfort object', with eight in ten (83%) sleeping with some type of stuffed toy or security blanket. Women are more likely than men to sleep with a comfort object (89% vs. 77%). The use of comfort objects also varies by age with Thais aged 25 to 34 being much more likely to than those aged 55 and over (87% vs 62%). However, there is no indication that those who have a 'comfort object' have better (or longer) hours of sleep than those who don't.
Kesayamol Anutarapinyovong, Head of YouGov Thailand commented: "Doctors say that sleep is one of nature's best cure-alls but our research finds that one in three Thais currently don't get enough shut-eye. Today's always-on lifestyle won't help with this. It appears that poor quality sleep is a particular problem for high-income Thais – with those on lower incomes telling us that they tend to get a better night's rest."
**Results based on 1,057 Thais surveyed by YouGov Omnibus
​​​​​​​