Facebook still the most positively talked about brand amongst 18 to 34 year olds
Facebook is the most positively talked about amongst millennials in Thailand, new data from YouGov BrandIndex reveals.
The world's most popular social media platform tops the latest YouGov rankings, which consider the brand 18 to 34 year olds have discussed with friends in favourable terms.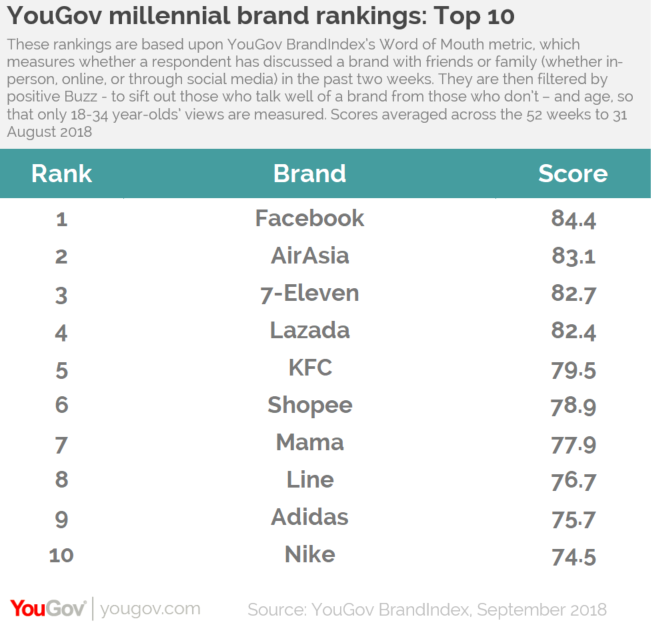 Facebook leads with a score of 84.4, and is closely followed by low-cost airlines AirAsia (83.1) in second place. Thai millennials appear to favour brands that make life easier, with convenience store 7-Eleven (82.7) coming in third place, quick service restaurant KFC (79.5) in fifth, and instant noodle Mama (77.9) in seventh. E-commerce platforms also have a strong presence in the top ten, with Lazada (82.4) in fourth and Shopee (78.9) in sixth.
The list is completed with instant messaging app Line (76.7) in eighth, and sportswear brands Adidas (75.7) in ninth and Nike (74.5) in tenth.
Ervin Ha, YouGov APAC's Head of Data Products said: "Younger Thais love Facebook and are likely to talk about the social network with their friends. It's also noteworthy that millennials in Thailand are speaking favourably about brands that cater to convenience – be it e-commerce platforms that deliver to your doorstep, or instant noodles."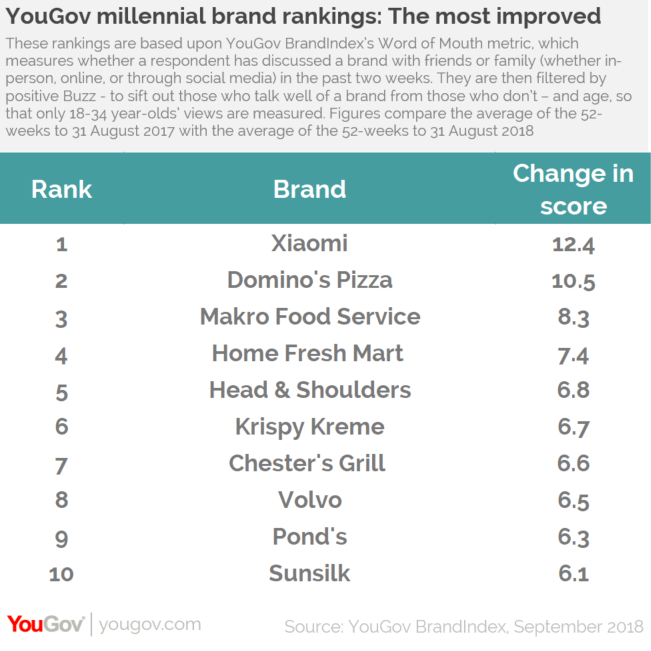 The rankings also show which brands have experienced the greatest uplift in the positive word of mouth over the past 12 months. Chinese smartphone manufacturer Xiaomi, tops the improvers list with its score increasing by +12.4 points. It appears ahead of Domino's Pizza (+10.5), Makro Food Service (+8.4) and Home Fresh Mart (+7.4).
YouGov's rankings are based upon YouGov BrandIndex's Word of Mouth metric, which measures whether a respondent has discussed a brand with friends or family (whether in-person, online, or through social media) in the past two weeks. They are then filtered by positive Buzz - to sift out those who talk well of a brand from those who don't – and age, so that only 18-34 year-olds' views are measured.