This month, barbeque chain Bar B Q Plaza is the brand that has achieved the greatest uplift in its Ad Awareness score (whether someone has seen its advert in the past two weeks) in Thailand.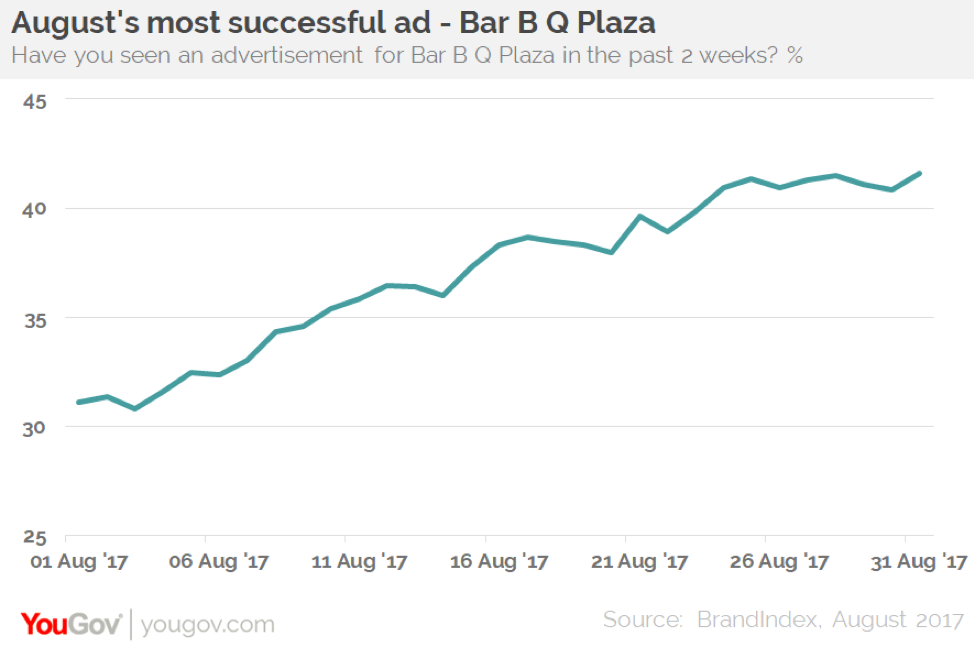 Barbecue is a popular cuisine among Thais, with stiff competition between fast food companies on both taste and price. Bar B Q Plaza has long established itself as a leader in this field, with 120 restaurants across the country.
Last month it launched its latest advertising campaign to celebrate the chain's 30th birthday. The ad, which tells the secret tale of Bar B Q Plaza's iconic dragon, has so far received over 5 million YouTube views, highlighting the campaign's success.
Over the course of the month, Bar B Q Plaza's Ad Awareness score rose by 11 points, from 31 at the start of the month to 42 at the end of August.
The impact of the ad is also reflected in Bar B Q Plaza's Impression score - which tracks net sentiments towards a brand. In the week after the ad aired on 6 August, its Impression score rose from 21 to 27, reflecting a positive increase in the brand's image.
Despite the campaign's palpable success, it's less certain whether this will translate into a significant shift in sales. When it comes to Consideration (whether or not someone would consider purchasing from the brand) Bar B Q Plaza's score ended the month at 26 – precisely where it was at the start of the month. This belies a small spike of +4 in the week after the ad was launched, suggesting that it initially shifted consumers' purchasing considerations but failed to make a lasting impact on dinner time decisions.